By: Julia Brinkmann,
Keywords: Admitting & embracing failure, human through humour, work atmosphere, integration
Tutors: Anna Pohlmeyer & Wim Schermer
---
Design Goal and Interaction vision
The design goal; "Help an intern to overcome his inner barrier for ap- proaching his colleagues and to be proactive."
The interaction vision; 2 people spotting each other wearing the same dress.
The confession wall
The confession wall is a tool created by the interns of a company. By the end of every internship the intern is supposed to write down his "nicest mistake" and put it up on the confession wall. (see picture 1) The stories are sorted by themes and every time the current interns are having a problem they can check on the confession wall if an old intern experienced something similar. (see picture 2) By reading about their mistakes the interns will realize that they are not the first one that makes these kind of mistakes and should be able to laugh about them, because they are part of the process of learning new things. The goal is to motivate each other through showing that you are human and admit failure.
Poster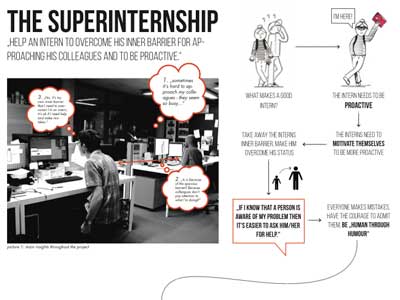 Presentation