By: Inge Bartels
Keywords:  'Knoop Moerwijk', feeling safe, women
Tutors: Gert Pasman & Wouter van der Hoog
---
Design Goal and Interaction vision
The design goal; I want to design a product which gives women a feeling of safety, while walking or waiting alone at 'Knoop Moerwijk' in dusk or dark.
The interaction vision; It should be positive, subtle, private, and fluent. Like a mother laughing to her daughter to encourage her to do something for which she is nervous.
Rosewood
The final design exists of two parts:
– The key ring is used as a stress ball to relax the muscles. Meanwhile a smell is diffused just strong enough to be noticed by the women to trigger them to smell at their hands. The smell reminds her of home which will distract her and reminds her of a safe place. Those two aspects make women feel relaxed which should make them feel safe.
– A smell dispenser is implemented in the key holder. The key holder will diffuse the smell in the house and meanwhile it is absorbed into the key ring. The key holder has a round shape to encourage the women to lay down their keys in it.
Presentation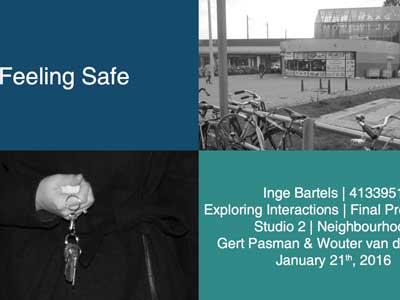 Poster