Froukje Sleeswijk Visser
Assistant Professor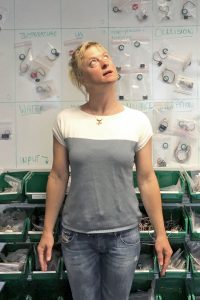 I am an assistant professor and an independent design researcher. As an industrial design engineering student in the nineties in Delft, I missed the human side in designing products. During my Phd project, I had the chance to deepen my knowledge in ethnographic research and conduct research about designing user-centred products in industry. As a result the book 'Bringing the everyday life of people into design' was published in April 2009 and later 'Service Design by Industrial Designers' (2013). Both can be downloaded from the publication page.
About myself:
I work parttime in Delft, I live in Rotterdam in a beautiful house, I travel to Delft, sometimes by train, sometimes by my van or Kangoo, and sometimes by bike. Besides working at the university, I am an independent design researcher; ContextQueen. These projects vary from context mapping, strategy development, user research, conceptualisation co-creation, design consultancy, lecturing and giving workshops.
In my free time I relax, party, make small animations, dance a lot, even African dancing, play with my daughter and most of all I love travelling. Walking in nature and cities is something I love to do most of all.