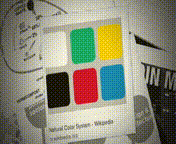 View the Introduction Videos
This is a lecture (in Dutch) for the BSc Industrial Design in Delft.
You can print this one. It was meant for A2 doublesided, but if your eyes are good, A3 will do. You'll have to fold it yourself.
Download for Screen Viewing
In this pdf, the pages are chopped up in successive sections, so you can view one at a time in sequence.
Or get Single Sections here
Want more tips? Here's a page with video tips on moving a workshop-based course online, and a lecture and foldout map with tips on Academic Writing.