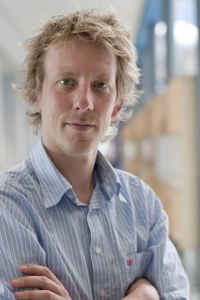 Jasper van Kuijk is assistant professor in user-centered innovation, studying how user-centered design (UCD) is dealt with in the practice of product-service innovation. He studies and teaches the principles and application of user-centered design, in courses at IDE and at the Institute of Design Knowledge in Hong Kong. He is the coordinator of the OV-chipkaart Graduation Lab and was editor of Design for Usability: Methods & Tools, a practitioner-centered overview of the results of the Design for Usability project.
Jasper van Kuijk (1976) was born in The Hague (The Netherlands) and obtained a master's degree in Industrial Design Engineering from TU Delft (The Netherlands), where he specialized in human-product interaction of electronic consumer products. He interned at the usability group of Ericsson Mobile Communications (Lund, Sweden and graduated at Philips Research's Media Interaction Group (Eindhoven, The Netherlands). After his graduation Jasper joined PARK advanced design management, a design management consultancy that advises on design process innovation, design department organization and design strategy.
In 2005 he started as a PhD candidate and in 2006 was co-author of the proposal for the IOP program for the funding of applied research, which resulted in the Design for Usability project of which his research project became a part.
During his PhD project he started 'the product usability weblog' (www.uselog.com) where he wrote about consumer product usability: examples of products with good and poor usability, usability studies, interesting papers, and news and events. By the end the weblog had almost 10.000 hits per month.
In 2009 he spent two months as a pre-doctoral research fellow at Northwestern University's Segal Design Institute and MMM-program. In December 2010 he successfully defended his PhD thesis 'Managing Product Usability; How companies deal with usability in the development of electronic consumer products'.