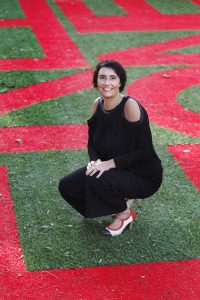 Ingrid Mulder is an expert in transformative and social design. Her background is in Policy and Organization Sciences (MA, University of Tilburg) and Behavioral Sciences (PhD, University of Twente). 
As part of her previous readership in Rotterdam, she has initiated the first Fablab in Rotterdam as well as the Rotterdam Open Data movement. She also founded Creating010, a trans-disciplinary design-inclusive research centre enabling citizens, students, and creative industry making the future of Rotterdam. In 2005, she headed the evaluation of the first Dutch living lab, "Kenniswijk", currently known as Brainport Eindhoven. Since 2007 she chairs the research program Meaningful Design in the Connected City, which connects research and education in both Delft and Rotterdam.
For more than ten years, she has been involved in the interplay between top-down policy and planning with bottom- up participatory innovation. As an expert for the European Commission on Internet of Things and Smart Cities, she advocates participatory bottom-up innovation as a means to empower people in driving social change.
Her on-going research has been awarded by two prestigious grants. Open4Citizens (Horizon2020) aims at empowering citizens to make meaningful use of open data. Participatory City Making (STW-RtD) considers the collaborative construction of new visions through small-scale experimenting as a way of triggering a process of broader change and transformation. The project elaborates upon the foundational project CRISP PSS-101 (NWO) she led in 2011-2015, which developed methods and tools to improve the understanding of the networked nature of PSS development.
Ingrid is an Associate Professor at the Faculty of Industrial Design Engineering (IDE), TU Delft. She coordinates the Master Honours Programme of IDE faculty and she is tutor and coordinator of several Master and Bachelor courses, as well as Graduation mentor.
Her Specialisation / Field of research are:
Transition Design: Transforming society – empowering people, driving social change
Making futures: Participatory design has always been about alternative futures
Urban Interaction Design: Participatory design moves beyond the workspace to public space
Co-creative partnerships: Multi-helix = triple helix + citizen (human centred) + participatory approach
Research through Design: Doing design as a collaborative process