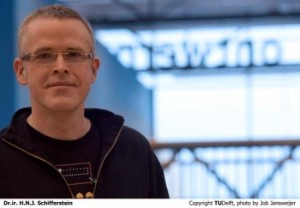 Background
In 1988 I obtained an MSc in Human Nutrition at Wageningen University, with majors in Sensory Evaluation, Food Chemistry, and Marketing. I continued my work on taste perception under the supervision of professor Jan E.R. Frijters, which resulted in my PhD thesis 'Sensory Integration in Mixtures of Tastants'. Since then, I have worked at Wageningen University, where I have taught courses on sensory evaluation, consumer behavior, an marketing research. I have also worked at TNO in Zeist, where I was a project leader for behavioral research.
In June 2000 I started to work at the Department of Industrial Design in Delft on a project investigating why people become attached to durable products. From 2002-2007, I worked on a project investigating multisensory product experiences, funded by the NWO MAGW VIDI program. In 2008 the book Product Experience was published, which I edited together with Paul Hekkert. This book contains a collection of chapters written by experts from all over the world, covering topics from perceiving products through the senses and understanding how to operate them, to their symbolic and emotional meanings.
Meanwhile, my interests started to shift from understanding the experiences people have, towards designing for particular experiences.  Because the experiential qualities of the product become more and more important for market success, companies become more interested in creating specific experiences. But how can you target specific experiences in the design process? In January 2011, a book containing 35 experience-driven design projects from TU Delft was published by Eleven Publishing. I edited this book together with Pieter Desmet. The innovative book design for From Floating Wheelchairs to Mobile Car Parks by Chris van Diemen and Jeroen van Erp has won a Bronze European Design Award.

Recently, I have returned to my academic roots, by focusing on the ways people interact with and experience food products, and the ways in which designers can assist the food industry to create healthier, more appetizing, and more sustainable food products. More information can be found on the Food & Eating Design Lab par.
Studio ZIN
In July 2010 I founded my company Studio ZIN. This company is focused on bringing inspiration into people's lives. Studio ZIN provides inspirational workshops supporting product innovation processes and stimulates personal growth.