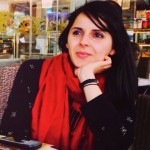 Hello! I'm Deger – and in case you are wondering how to pronounce my name – it is pronounced as "de'er" as if there is no "g". That covered, I am a PhD candidate in Studio-lab since November 2011, and my PhD research focuses on developing the necessary knowledge and supporting tools for designers to utilize people's dilemmas as a creative starting point for user-centered design.
I studied Design for Interaction at Delft University of Technology and received my M.Sc. degree with a thesis focusing on designing for sustainable eating habits using emotional dilemmas as a starting point in my design process. This was a dream project in which I could combine my passion for food, emotion, and design! I was so inspired by the creative potential of using 'emotional dilemmas' in designing that I continue to work on this topic in my PhD research. Example domains in which dilemma-driven design has so far been implemented include sustainability, healthy eating, procrastination, mindfulness, and children play.
This research project is among the research portfolio of Delft Institute of Positive Design. The institute was established in November 2011 with the aim of initiating and stimulating the development of knowledge that supports designers in their attempts to design for human flourishing.