Augmented Reality to asses Parkinson's disease
A smart product for the interactive use with Augmented Reality glasses to improve Parkinson's disease assessment.
 This project in combination with the 'technology in motion' project at the faculty of technology, management and policy (TBM) focusses on the assessment of people with Parkinson's disease (PD). The goal of the project was to motivate people with PD that are often above the age of 55 years, to make certain arm movements with their affected limb. Secondary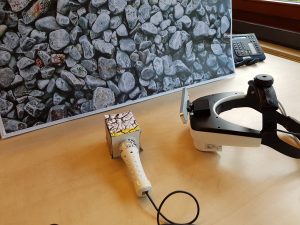 goal was to provide the doctor with objective quantitative data of the movements. The goals were achieved by the design of a game that worked in combination with augmented reality glasses and a designed controller. The game design featured conveyor belts with candies that were rolling towards the player; the goal was to catch the candies before they would fall down, off the conveyor belt. The game was displayed inside the viewers view while the users interacted with the virtual content with the use of a psychical controller. This wireless controller consisted of a 3D printed handle with a 3D marker on top that could be recognized by the software. Furthermore, haptic feedback and an acceleration/ gyroscope sensor were present. The final design of the controller featured a basket on top of the handle to improve immersion.
 Erik van der Meulen
erik_vd_meulen@live.nl
Van der Helm, A.J.C. , Visch, V.T.
master thesis, Juli 2016