Looking Towards Vermeer's Viewpoint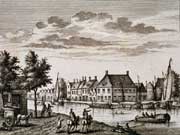 View this movie:


Panorama showing Vermeer's viewpoint, which must have once been located at the site of the large house visible at the corner. Engraving (153 x 191 mm.) entitled "Gesigt van de Schie, voor de Stadt Delft", by Pieter Schenk (1731-1797) from the book "Alle voornaamste Gesigten van Delft", 1736.

Engraving scanned at the Image and Sound department of the Municipal Archives, Delft.