'View of Delft' by a youthful Van Liender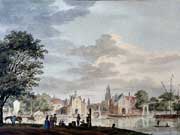 View this movie:


View of the Schiedam and Rotterdam Gates (244 x 399 mm.), watercolour drawing by Paul van Liender (1731-1797). Dated 1752 or 1755.

The Delft Archive owns a high quality reproduction; the whereabouts of the original is unknown. Scanned at the Image and Sound department of the Municipal Archives, Delft.