A flight over Water Towards Schiedam Gate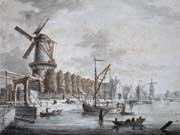 View this movie:


View of the Delft harbour and the Schiedam gate (160 x 208 mm.), by Isaac van Haastert (1753-1834). Pencil and wash, inscribed on the bottom "Gesigt van de Ketel en Rotterdamsche poorten der Stadt Delft".

Image scanned at the Image and Sound department of the Municipal Archives, Delft.