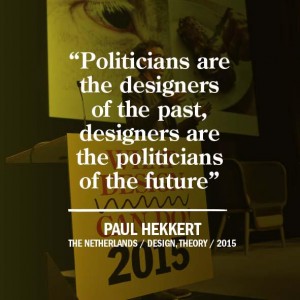 Paul Hekkert spoke at the What Design Can Do conference, which was held on the 21st and 22nd of May, in De Stadschouwburg in Amsterdam. WDCD is a very well designed conference to show and learn from national and international designers of the social impact design can have. The conference celebrated its fifth year's anniversary, and Paul was the first speaker to kick-off the event.
Paul Hekkert made a plea for designers to start thinking manifestation-independently. When the ultimate aim of a product-to-be-designed is about its effect, then the question becomes: which mean (be it a smartphone application, a campaign, a building or a tangible design) is the most appropriate and effective to obtain that effect? The world needs this new type of designer. By showing several examples, with a great emphasis on the science underlying the design, Paul stressed that designers could literally take up any problem to design for.
So designer, let's take our responsibility!