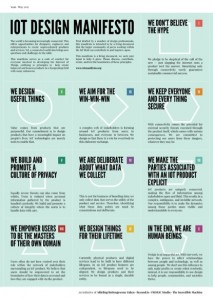 In a joint effort by design studios The Incredible Machine (NL), Afdeling Buitengewone Zaken (NL), Beyond.io (BE), and FROLIC Studio (NL), and TU Delft PhD candiate Holly Robbins (NL), the IoT Design Manifesto was composed to serve as a code of conduct for everyone involved in the creation of the Internet of Concept design.
The world is becoming increasingly connected. This offers opportunities for designers, engineers and entrepreneurs to create unprecedented products and services. Yet, a connected world also brings new questions and challenges to the table.
The manifesto is considered to be a living document which requires input to help it grow. It was first presented and workshopped at ThingsCon in Berlin (May 2015). The co-authors of the Manifesto are continuing to present and develop it at workshops, conferences, and other venues.  The next workshop will be held in Antwerp on 12 June.
The manifesto can be accessed here: iotmanifesto.org
For more information please write to: info@iotmanifesto.org or Holly Robbins at h.v.robbins@tudelft.nl