Come and experience 22 unique interactive product concepts at Industrial Design Engineering on Wednesday July 1st any time between 14:00 and 18:00. You can experience how traces-of-use may improve interaction with connected products, encounter interactive energy coaches to raise your awareness of energy consumption, undergo interactive experiences designed to increase the hospitality on airplanes – and much more!
The assignments were on the following topics:
Bay Window Interface with Microsoft and Stella Boess – Design for the user interfaces of a bay window that enables it to be a real friend and to facilitate use practices.
Energy Feedback Object with Tomasz Jaskiewicz – Design interactive artefacts that will stimulate people to save energy in one of the spaces of the IDE faculty.
Nuances in Positive Emotions with Jay Yoon – Design an interactive toolkit or environment to explore and experience positive emotions.
Patient Experiences at Home with Philips Design – Design tools that support chronically ill persons and their informal caregivers at home.
The Hospitality Tube with Zodiac Aerospace – Design interactive experiences around the aircraft galley.
Traces-of-Use with Holly Robbins – Design an opportunity to have a manual impact on creating a trace of use upon a connected product.
We will be delighted to see you in the studios on the first floor of the Faculty of Industrial Design, Landbergstraat 15, 2628 CE Delft: http://www.tudelft.nl/gebouw32
For more information contact:
Aadjan van der Helm (http://studiolab.ide.tudelft.nl/vanderhelm),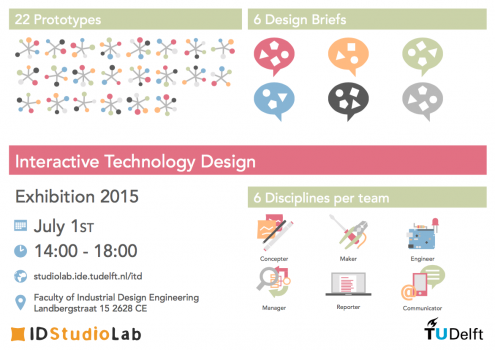 Invitation designed by Mathijs Broekhuizen